Meet SEO Trainee: How to become one and what to do
Anyone can become an SEO Trainee, including people without relevant experience. But also to start a career in this niche, you need to have a few relevant skills.
What skills and abilities are required? What should one focus on? How long can it take to learn from scratch? And what does SEO Trainee do?
Disclaimer: All IT and digital companies have different perspectives on what ideal specialist is. These discrepancies depend on many factors: niche, project specifics, clients, industry, etc. It isn't easy to unify the list of requirements, even within a single grade (Trainee, Junior, Middle, Senior). That means that much depends on a specific company in the process of hiring.
So, our first tip is to decide where you want to seek employment. For example, at Boosta, we perceive both the soft and hard skills as equally relevant, especially among the initial positions. This tendency is gradually becoming more relevant, including technical specialties. However, not all employers are guided by it.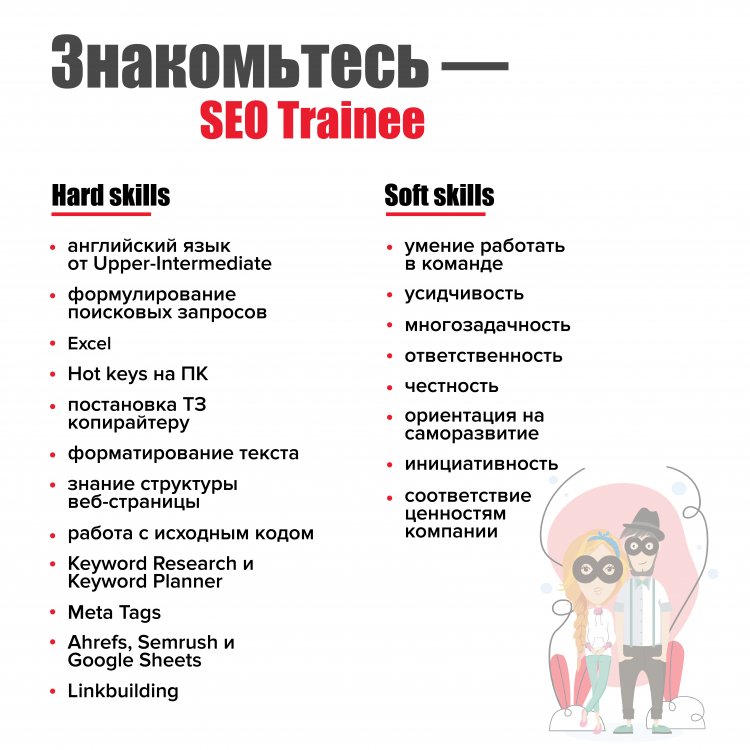 So what should SEO Trainee be like?
Let's start with the basics: SEO specialist is a proficient optimizer. That person knows how search engines work and how the search engine displays websites. SEO specialist tidies the internal structure, fills pages with keywords, and even works on a brand citation. All that is done for a specific website or an article to rank well in a search engine.
For maximum clarity in our corporation, we have developed a grading system based on skills and abilities. Based on our knowledge in hiring SEO specialists, the necessary skill set for SEO Trainee will be:
English at Upper-Intermediate and above;
knowledge of essential Hot Keys on PC;
ability to work with Excel tables / Google Spreadsheets;
understanding of the basic structure of a web page;
understanding what links are and what types of them exist;
ability to correctly formulate queries and search for information on the Internet. If you can find the answer to the question on the Internet: "At what time, according to the omen, is it not customary to start a game in a sports disciplines, the accessories for which Alan Shepard took with him to the Moon?" you can know that you have this skill;
knowledge of viewing the source code and inspecting the web page;
search in the source code for the title, description, H1 and content block (we hope you understand what we are talking about);
understanding of the essence, variety, and functions of CMS sites;
knowledge of text formatting.
Slightly uncertain in one of these skills? Not a biggy. The advantage of the Trainee position is that there is always a curator. In particular, a Middle or higher SEO specialist will help you with your work duties. But it is worth remembering the ability to take the initiative. If there is a chance to understand the issue yourself, you have to use it.
And, of course, SEO-specialist at any level should have a typing speed of at least 230-250 characters per minute. If you are not sure of your typing speed, just check it on ratatype.ru or with any other related tool.
What about hard skills?
SEO Trainee most often uses the following skills:
1. Work with content
1. Keyword Research
At the Trainee level, you need to understand what a Keyword is and realize the purpose of Keyword Research.
2. Interaction with a Copywriter
You have a lot of work to do with copywriters. You are required to know where to find them and understand the full cycle of interaction with these specialists.
3. Creating a Technical Assignment
What is a Technical Assignment, why and for whom it is necessary, how to create it? If you know answers to these questions, your SEO skills show some progress.
4. Meta Tags
Knowing meta tags and the ability to work with them will definitely come in handy.
2. Linkbuilding
Understanding the link building process and the ability to work with links. This is one of the critical skills for SEO Trainee.
3. Tools:
This resource can check backlinks to the site, show indicators for evaluating websites, conduct a search for TOP competitors, and determine and site spam.
You will need to check the search volume of keywords, find semantically similar keywords, and group and upload them.
With this tool, you have to learn how to view organic traffic for periods, study traffic regions, find and download keywords for the desired site, and determine the percentage breakdown of traffic by page.
Soft skills
SEO optimization is a painstaking process. It requires determination, hard work, and constant analysis. You can't perform well without multitasking, because the position offers a wide range of functionality and expertise. But don't you dare to be afraid. Even a novice SEO expert will always be haunted by a list of prescribed tasks and KPIs, which will certainly not let you go astray 🙂
Last but not least, values and culture. Each company has its own rules as well as internal policies. For us, at Boosta, compliance with the company's culture is one of the essential selection criteria. So don't forget to discuss it with your future employers. This step is necessary to help you get acquainted with the company, please the recruiter, and, finally, join the team. For the responsibility in work, honesty in communication, and motivation for self-development, you will be praised in any field or niche.
If you know more than you read here – we can only say congratulations! You can count on Junior's position. To get to know what you need to do, be sure to read in the following articles.