In Search of Balance, or Key Mistakes in Working with Pricing
We continue a series of articles about the nuances of experimenting with tariff pages. In the last article, you learned why pricing is so essential. This article focuses on critical mistakes in working with the tariff grid.
During the last three years at Boosta, we have been working on developing SaaS products for marketers. During this time, we conducted many tests with tariffs and faced a lot of errors. We'll discuss these below.
Our experience shows that the chief errors with pricing in the first year of a startup are as follows:
1. Have no pricing.
No pricing – is a common mistake for startups that have traffic or some part of their product ready, but which don't have a clear idea of what can bring them money. I should say that we also faced this problem in our company. We created a functional working page for our SEO analysis tool, got the first audience that liked it, but we did not sell anything.
At this stage, we had a lot of options where we could deploy our future product. It could be:
● make money on different types of SEO tools and services;
● set a limit for the number of checks for free subscription / take money for the number of checks;
● create an SEO course with fee-paying access;
● make money on affiliate programs of other SEO products;
● create another product with a higher value and sell it; make the page analysis tool free of charge.
We came to the last option in a long while. Notably, we worked without a tariff page for six months, and that was a huge mistake.
Your pricing will inevitably change. With time, you may notice that there is nothing left from the original version of the pricing page. However, these changes will help you eventually track and evaluate the comments and feedback from customers. Is the customer ready to pay for your service/product; which competitors does he consider; which capabilities of the product interest him the most? It is much easier to get answers to these questions if you have the pricing page.
At the moment, you realized that you immediately need a price list, try not to get on the hook of the second mistake.
2. Working for too long on the first version of the pricing.
If you have no ideas on creating a catchy tariff grid, it would be better to keep on moving – there are many things to think about. The best thing for you now is to make the first version based on the one's your crucial competitor has. At the early stage, you should focus on quality; money is not the priority at the moment. First, you need to understand if your picture of the world is adequate enough and whether the competitive advantage that you put in your product is significant for users.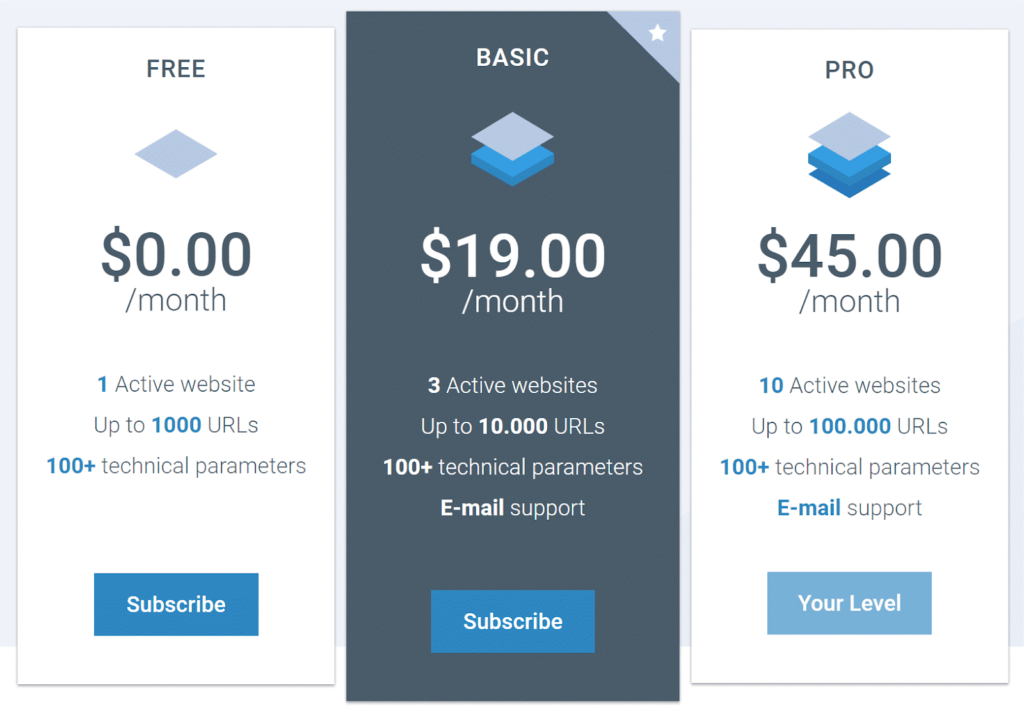 Here is an example of one of the first versions of our pricing for Sitechecker.
3. Conduct a few experiments with pricing.
It is always necessary to keep in mind that we have a limited amount of traffic to conduct experiments and obtain statistically significant results (I use this tool to estimate the number of required users in the specific selection).
In the first year, the startup has basically little traffic, and every user counts. Therefore, there is no way you can take breaks in experiments. After completing one, you immediately need to run the next one.
And it would help if you always remembered why you conduct these experiments. In the first year, you do this not to die because most startups die – the lack of demand for a product.
In order not to become a victim of this error, you need to continually compare your forecast with the results of experiments on pricing, and conduct interviews with users.
But besides the lack of demand for a product, there is a related error – a problem with conveying the value of a product. Do not underestimate it. Your product can meet the needs of users better than competitors. However, if you can't convey your message right, your advantage loses its strength.
It seems that people will figure out your product on their own and just purchase it if people have some need. This option will work well in case if you don't have any competitors. If, however, some companies offer a product that can decrease a customer's expenses – he will choose is. Note that a customer prefers something more understandable in use.
In total, the first year is when you should conduct experiments with the pricing page to check the following regularly:
● Is there a demand for your product?
● Are you communicating the value of your product well to your audience?
4. Test too small changes.
For each price list, there is a small number of the riskiest, radical hypotheses, and a massive number of small ones. Whether it is a change of a button's color, tariff's name, or pricing design type – it can lead to significant results. Sure, you can see the effect on large volumes of traffic.
5. Testing obviously useful elements.
If you already have product reviews or publications on well-known sites, you do not need to test them, post them immediately. The only thing is, do not include outbound links inside the content. I distinguish four points for pricing. You can add instantly to pricing without conducting experiments: reviews, ratings on the pages of reviews, comparisons, the logo of the companies that use you, and answers to FAQ.
If you examine the pricing pages of all the companies in your market, you will see that the types of blocks in pricing are very similar despite the significant differences in design. Someone comes up with such blocks after their experiments; others use established practices. The point is that such elements will hardly harm your pricing page. The effect of such components can be neutral, or they can even slightly improve your conversion. Thus, it makes no sense to test them at first.
6. Lack of communication with the audience on the pricing page.
You need to place chats and use automatic messages on the pricing page for two reasons:
● Here, all users have different questions. Many videos explain user behavior on the page rate, click cards, scrolls, and, most importantly, online chat communication. When you receive the first questions, you will see what nuances in your tariffs excite users most of all, and what causes doubts among the customers. Having this information, you understand what information should be added to pricing to exhaustively answer all internal user requests. As it often happens in life, users do not know what they are searching for. Thus, you must create the list of commonly asked questions and also build hypotheses about unsaid; however, implied questions during the communication.
● This is a place where the user can negotiate. This is the communication of a specific type. Now, you have a user who shows interest in your service/product. He might be clarifying particular questions. Yey, the critical thing that matters to him is different – either a cheaper offer or a more significant value for the same price. The negotiations themselves already indicates the value of a product. The higher the expenditure of time and intellectual effort the user makes to gain access to your product's use, the better. Keep in mind that you don't have to reduce the tariff prices right after the negotiations. You may make concessions for those people who ask you about it.